Ever wondered why February is shorter than all the other months? And what's the story with the whole leap year thing? Well, we can attribute this calendar quirk to the Ancient Romans. Roman King Numa Pompilius established the basic Roman calendar, which previously only had 10 months.
However, most Romans were farmers, and used the 12 cycles of the 355 day lunar calendar to keep track of planting & harvesting. In order to sync the Roman & lunar calendars, Numa added two new months, January and February. Ancient Romans thought that even numbers were unlucky, so the king made seven of the calendar months 29 days long and four 31 days long. However, the calendar still didn't add up to 355 days.  Numa decided to make February short, since it was already an disliked month because of its unpopular religious celebrations.
Years later, Julius Caesar and Caesar Augustus rearranged the calendar further to its current 365 days, and introduced the February leap day, which added a day to February every 4 years.  Leap days are needed in order to keep the calendar year in sync  with the lunar calendar, which don't repeat in a whole number of days. Without the addition of a leap year, a calendar that had the same number of days in each year would, over time, drift with respect to lunar & solar cycles.  A leap day every 4 years solves this problem.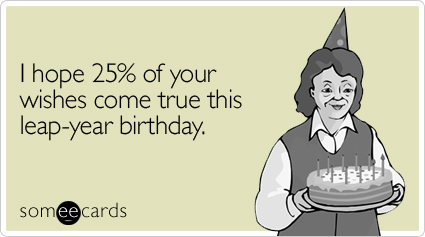 A person born on February 29 may be called a "leapling" or a "leaper".  Technically, a leapling will have fewer calendar years than their age in years. This phenomenon is exploited when a person claims to be only a quarter of their actual age, by counting their leap-year birthday anniversaries only, creating the situation where a 52 year old can officially claim it is their 13th birthday!
Here's a handy chart to help you decode your leap year friend's actual age:
| | | | | | |
| --- | --- | --- | --- | --- | --- |
| Birth Year | Leap Years | Actual Age | Birth Year | Leap Years | Actual Age |
| 1908 | 26 | 104 | 1960 | 13 | 52 |
| 1912 | 25 | 100 | 1964 | 12 | 48 |
| 1916 | 24 | 96 | 1968 | 11 | 44 |
| 1920 | 23 | 92 | 1972 | 10 | 40 |
| 1924 | 22 | 88 | 1976 | 9 | 36 |
| 1928 | 21 | 84 | 1980 | 8 | 32 |
| 1932 | 20 | 80 | 1984 | 7 | 28 |
| 1936 | 19 | 76 | 1988 | 6 | 24 |
| 1940 | 18 | 72 | 1992 | 5 | 20 |
| 1944 | 17 | 68 | 1996 | 4 | 16 |
| 1948 | 16 | 64 | 2000 | 3 | 12 |
| 1952 | 15 | 60 | 2004 | 2 | 8 |
| 1956 | 14 | 56 | 2008 | 1 | 4 |